Facebook is turning its focus toward local content, especially since the Facebook Local app launched in November 2017.
More recently, Facebook rolled out the option to set up individual location pages for each storefront or office and to connect them to your main brand page.
Location pages help users find businesses near them in search more easily, as well as allowing businesses to create and market content for a specific local audience.
In this post, we'll discuss which businesses should use location pages, the difference between location pages and regular Facebook business pages, and why location pages are valuable to business.
Related: How to Localize Social Media to Reach the Right Customers
Which businesses should use Facebook location pages?
Any business with multiple locations should use location pages, including:
Chain restaurants and cafes
Dental and medical offices
Retail stores
Hair and nail salons
Veterinary offices
What's the difference between location pages and regular Facebook business pages?
It's all about the hierarchy.
With a main brand page and secondary Location pages, you can showcase your general business information separately from your localized information. With standalone pages per location, you lose the authority of a main brand page.
This structure allows you to connect all your pages together and help users navigate from broad to narrow more easily. These connections also give each Location page more credibility, rather than independent Facebook business pages trying to generate attention on their own.
Even more, if your pages are connected, you can share your main page posts, events, and ads to your location pages, while also posting exclusive content for each location.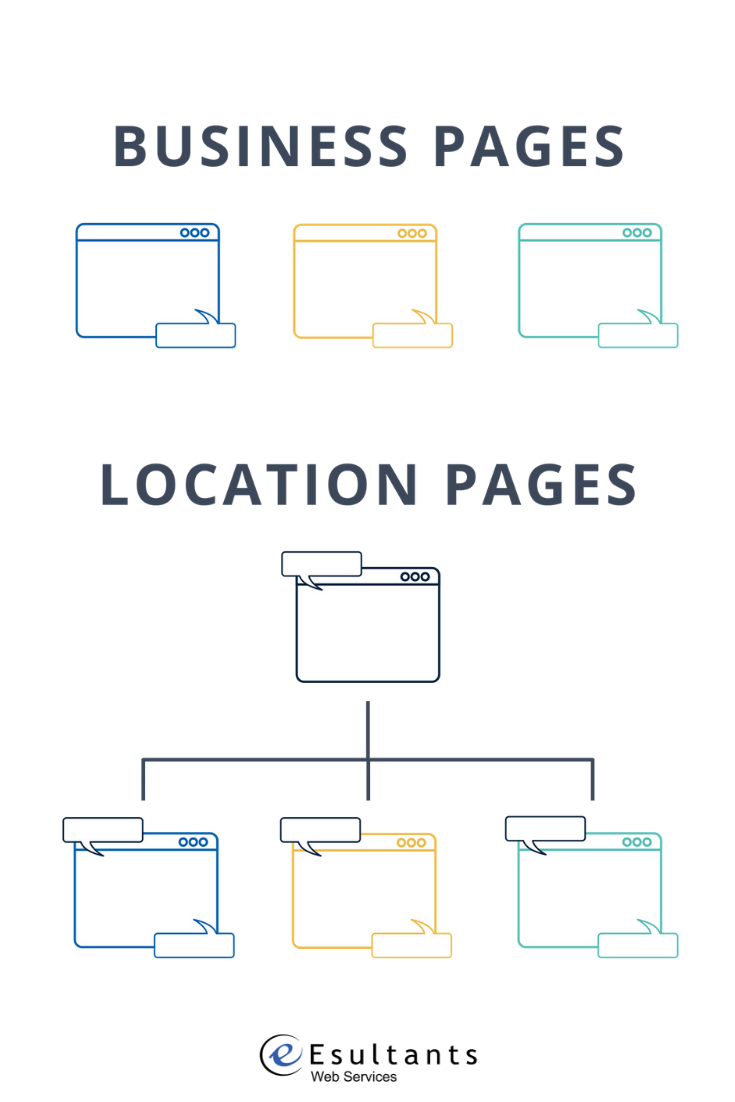 Why are Facebook location pages valuable?
Improve Local Listings and Search Results
When people search for products, services, or business types, search engines serve nearby results by default. Creating a page for each of your locations under your main brand page allows you show up for searches near any of your locations, not just your headquarters.
LOCAL SEARCHES on Facebook show business location pages.
Specify Check-Ins, Reviews, and Recommendations
Facebook's check-in, review, and recommendation features are all localized.
Check-In: Facebook Local relies heavily on where users' friends are visiting. Allowing your customers to check in to a specific location on Facebook increases your chances of being found by their nearby friends.
Reviews: As a business owner, your goal is to maintain quality across all of your locations. However, as consumers, we want to make sure we will have a positive experience at the specific location we are visiting. Showing separate reviews for locations gives your new customers exactly what they're looking for.
Recommendations: When people ask for recommendations on Facebook, they have the option to narrow down the location. If one of your location pages is within the city they are asking about, your business can be added to their recommendation map, even if your headquarters are located elsewhere.
FACEBOOK RECOMMENDATION requestions can request a specific location.
Do you have multiple or unofficial places or pages? Contact Esultants for help merging them.
Set Page Roles for Each Location
With Facebook location pages, you can customize who has access to each location. This means you can give each store manager access to post local content, without giving them the keys to the main brand page.
But don't worry! You don't have to manually manage page roles if you don't want to. If you add someone as an admin on the main brand page, they automatically have access to all location pages.
Related: 4 Options for Social Media Management
Post Localized Content
The secret to a good social media strategy is posting content your specific audience finds useful or interesting.
For example, you follow Starbucks because you want to know when they announce the pumpkin spice latte. You also follow your St. Paul location because you like their pictures highlighting local events. If you saw Facebook announcements saying a Starbucks in Montana is closed for a remodel, you'd be annoyed because that has nothing to do with you and your morning brew.
With location pages, your main brand page content will post to your location pages' feeds by default, but you can also post content specific to that location.
What types of posts should you share on your main brand page versus your individual location pages?
LOCALIZED FACEBOOK EVENTS provide followers with content which is interesting to them.
Location Page
Local team updates
Behind-the-scenes looks at the store, products, and work
Local job postings
Location announcements (parking, weather alerts, remodeling, special closures)
Local events or sales
Main Page
New product or service announcements
National job postings
Links to your blog posts
Conclusion
Facebook location pages are just another way for search engines and social media platforms to provide users with the content they want to see.
If your business operates from two or more locations, adding each as a location page will improve your social media ranking and help you deliver interesting content to your followers.
Read more about Facebook for business:
Which social media platform should my business use?
Why does my business need Facebook?
Why can't I change my link preview on Facebook?
How can I reach local customers on social media?
Pin it