Snapchat may be the most underrated social media platform for businesses
It launched in 2011 as a mobile messaging app used mostly by teens to send photos and images that expired after a short time – as in a couple seconds short.
Snapchat quickly grew in size, reaching 191 million daily active users in four years. Still, many businesses don't engage with Snapchat.
There are a few reasons for this:
First, Snapchat has a mobile-only interface, unlike Facebook, Twitter, and even Instagram, which allow users to check notifications and scroll through feeds on desktop. This makes linking Snapchat from your website difficult.
Also, the majority of Snapchat users are under 34 years old. If the decision-makers in the company are older than this, they may steer clear of Snapchat simply because they don't use the platform. Alternatively, if a business is targeting older customers, they are wisely spending their time on other modes of marketing.
There are valid reasons for businesses to stay off Snapchat, but lack of information is not one of them.
We've created this guide to clear up some of the assumptions and confusion small business owners bring to Snapchat and to help you determine if it could be a powerful tool in your online marketing.
In this post:
What are the benefits of Snapchat for business?
What types of businesses should use Snapchat?
How do I make the most of Snapchat for business?
What is Snapchat?
Snapchat originated as a messaging app that focused on pictures and videos rather than text. Traditionally, these pictures or videos would only play once and delete after a few seconds.
However, as the app has evolved, they have introduced new features that allow you to create a lasting catalog of content, from the 24-hour stories to a permanent Memories section.
Also, Snapchat is continually developing new features for customizing images and videos with text, drawings, stickers, Filters, and Lenses.
In 2018, Snapchat has 191 million daily active users who share 1 million photos and videos every day. Young professionals are the largest demographic of Snapchat users, with 71% of users being 18-34 years old.
Pin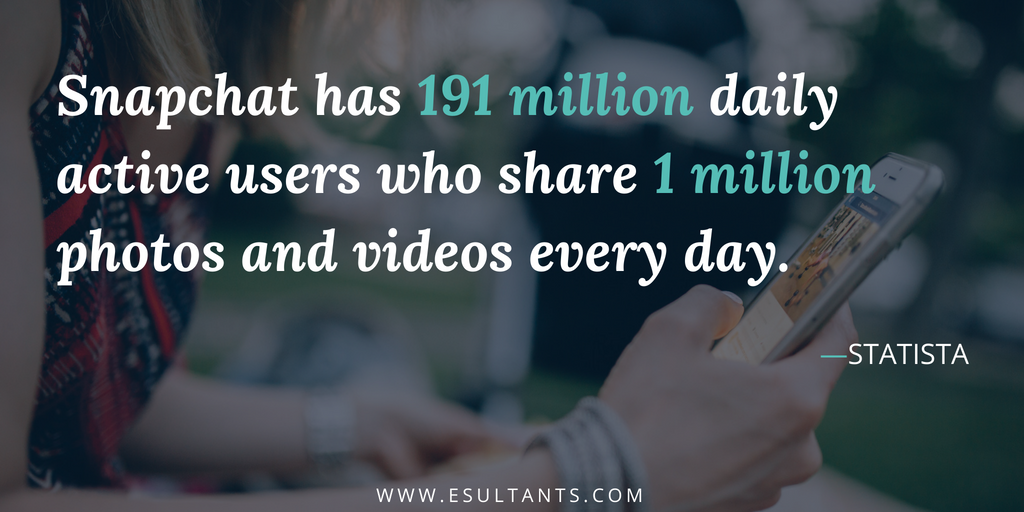 Snapchat Vocabulary
Snap: A picture or video sent through the Snapchat app.
Snap Story: A series of photos or videos compiled by the user that all their friends can see, which will disappear 24 hours after posting.
Memories: A collection of non-expiring Snaps saved to your Snapchat account that friends cannot see.
Filters: Static add-ons users can select to decorate their Snaps. To add a Filter, simply Snap a photo or a video and then swipe left to see what Filters are available.
Geofilters: Filters created for a specific event or place. To see available Geofilters, turn location tracking on before selecting a Filter. Keep reading for information on creating your own.
Lenses: Augmented reality add-ons which integrate the user's face with animations and overlays. To add a Lens, tap on your face in camera mode to pull up the Lens menu. Swipe through to make your choice, tap to apply the Lens, and then record a short video.
Note: Snapchat Lenses are popular and fun but are not considered professional. Make sure you are following company guidelines before posting videos to a brand account.
Snapcode: Similar to a QR code, a Snapcode is a unique code a user can scan to automatically add someone as a friend on Snapchat.
Benefits of Snapchat for Business
Like most social media platforms, Snapchat started as a way for friends and family to interact with each other. The difference is that other platforms revolve around feeds, and Snapchat's central feature is messaging.
This makes Snapchat that much more personal. In fact, video ads on Snapchat have been proven to evoke a higher emotional response than ones on Facebook, Instagram, or YouTube.
Pin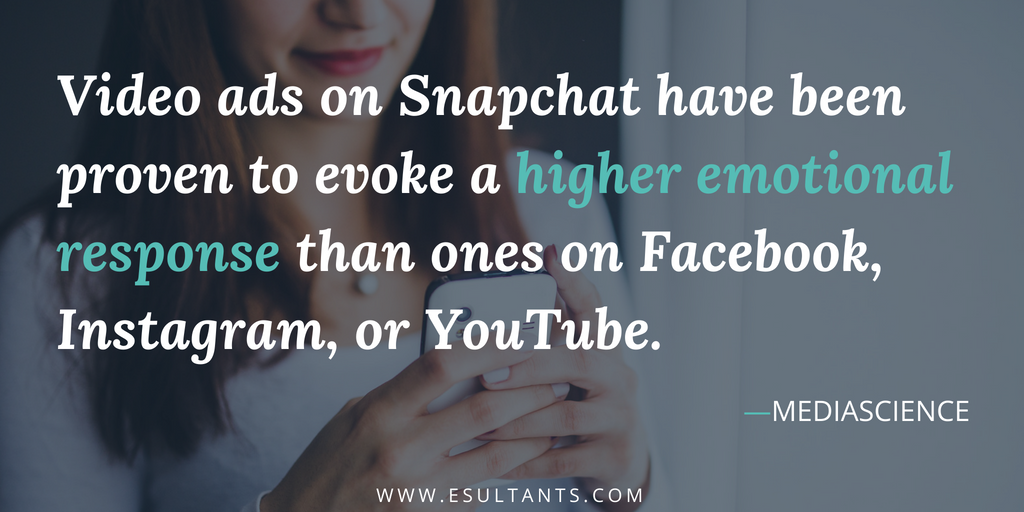 Also, Snapchat is exceedingly popular among teens and young adults. It's playful, informal, and trendy. Even better, a niche audience means users on Snapchat are generally more engaged with the people they follow than they would be on Facebook, where they follow more brands and are friends with more people who aren't their peers.
For businesses looking to reach a younger millennial and Gen Z audience, Snapchat is the perfect opportunity.
What types of businesses should use Snapchat?
Here are a few examples of businesses that typically interact with teen and young adult buyers:
Restaurants
Restaurants can hit every demographic, but pay special attention if you are a restaurant near or in a college town or if your product tends to pull in a younger crowd. Post about introducing a new recipe, an offer for discounted food, or pictures that will make your followers' mouths water! Create a Geofilter for your restaurant or neighborhood and let patrons know about it.
Retail Shops
If most of the people coming through your shop are younger than 35, try posting about your store on Snapchat. Post pictures of new products, announcements for sales, or your new window display.
You may even consider doing an employee takeover, where a member of your staff takes control of the account for the day. They can give a tour, share their personal favorites in stock, and tell followers what they love most about working at your shop.
Agritourism
As an agritourism organization (i.e. tree farm, apple orchard, pumpkin patch, horse ranch), you are often selling an experience more than a product. Use Snapchat stories to show followers what is going on at your farm or ranch on any given day.
Maybe it is Santa's first day at the Christmas tree farm or you are starting to plan this year's corn maze— all of these inside looks will get your followers excited to come visit you and be part of the experience.
Need help finding the right social media platform for your business? Download our free flowchart! Download Flowchart
How to Set Up Snapchat for Business
Download the app from Google Play or the App Store.



When you open the app for the first time, it will prompt you to log in or sign up for an account. Click Sign Up.



Enter your business name as the First and Last name, then click Sign Up & Accept.



Enter your business's founding date or your founder's birthday when prompted. Click Continue.



Enter a username that is simple and easy for users to remember. Keep it consistent with your usernames on other platforms if possible. Click Continue.



Set a password.



You will be prompted to enter a phone number to verify your account. Choose Sign Up with Email Instead. Enter a work email that can be accessed by more than one member of your staff. Click Continue.



Prove you aren't a robot, and then click Continue.



You can use your phone contacts to find friends, or click Skip.



Start Snapping!
Getting discovered on Snapchat is more difficult than on other platforms. Snapchat doesn't recommend brands to follow, and it doesn't even have a search feature. Instead, users need to know your exact Snapchat name to follow you.
Cross Promote on Social Media: When your account is new, you can share your Snapchat name or Snapcode on your other social media platforms.
Share at Your Physical Location: If your business is a restaurant or retail shop, you can use in-store displays with your Snapchat name and Snapcode so users can follow you in your store.
Snapchat for Business Tools
There are two main ways to do paid promotions of Snapchat: Snap Ads and Geofilters.
Snap Ads
Snap Ads are 10-second vertical videos that appear between stories. These ads offer the ability for users to swipe up during the video, which takes them to a landing page to learn more.
Snapchat ads gather twice the visual attention of Facebook ads and 1.5 times more than Instagram ads. Also, Snapchat offers less expensive ads than any of its social media competitors at an average of $2.95 per thousand impressions. So while creating Snapchat ads is more difficult because of the distinctiveness of the platform, the lack of competition on the platform means the right businesses can get a lot of traffic at a better value.
Geofilters
Geofilters are small graphics that appear over someone's Snapchat. They are split into two categories: sponsored and on-demand.
Sponsored Geofilters are mostly used for large companies and can cost hundreds of thousands of dollars.
On-demand Geofilters, on the other hand, are perfect for small businesses. On-demand Geofilters allow a company to choose a location where their Geofilter will appear on a user's Snapchat. On-demand Geofilters cost $5 per 20,000 square feet covered, so they are relatively inexpensive.
Snapchat for Business Best Practices
Go Behind the Scenes
Do you have a tradition of celebrating birthdays each month? Did you get a new product order in? Or better yet, can you give followers a glimpse of you making the products?
Consumers today value transparency and authenticity from the companies they choose to give money to. A peek behind the scenes will make your customers feel part of the process, encouraging them to engage with your brand and your content more in the future.
Delegate Posting to a Social Media Savvy Employee
While handing over all social media management to your Gen Z employee isn't a great marketing practice, Snapchat does benefit from being employee-run, especially for small businesses.
The benefits of Snapchat are showing a behind-the-scenes look at your business and starting informal conversations. Your employees are often the best for this role as the real people behind your brand. Just be sure to remind them of your standards for staying professional!
Use Popular Current Events
The longest a Snap can stick around is 24 hours. This makes it perfect for immediate responses to current events.
If it's something you can prepare for, post about your upcoming campaign on other social media sites ahead of time.
As for content, you don't necessarily have to say anything about your brand. Simply entertaining your audience will improve how they think of your brand – so keep it light!
Tell a Story
Tell the story of your business, of an employee, or of a product. People are drawn into narratives much more than facts or statistics. Use the fun energy of Snapchat to share the personal side of your business.
Share Exclusive Coupons & Deals
Nothing builds loyalty like free stuff! If you are running a promotion or offering a deal, use Snapchat to announce it. Since Snaps expire so quickly, users are more likely to follow you to make sure they don't miss anything.
And more:
Can I stay professional on Snapchat?
Snapchat is great for posting authentic, light-lighthearted content about your business. However, you're still a business. How informal is too informal?
Don't overuse the special effects. Less is more – too much and you'll put some people off.
Don't use profanity. Even if this is the "authentic" you, it's not a good look for a business.
Don't post stories longer than two minutes. Your followers' time is valuable. Post often, but keep the content high-quality.
Don't take temporary too seriously. Nothing on the internet really disappears. Only post something if you wouldn't mind it being screenshot or recorded and shared with the world, and make sure anyone with access to the account does the same.
Are you Snapchat ready?
We hope this post helped you feel a little more informed and a little less scared when it comes to Snapchat. Even if this particular platform isn't right for your business, social media and online marketing is always changing, and the most successful businesses are willing to grow with their audience.
If you think Snapchat sounds like a great opportunity, but you're still a little nervous, let us know in the comments! Or if you are a current client, you can contact the social media experts at Esultants for specific advice. If you're not a client, but a web company that listens to you and works to see you succeed online sounds appealing, we would love to set up a time to chat.
Until then, follow us on Snapchat! — or Facebook, Twitter, Instagram, LinkedIn, or Pinterest.
Want to know more about social media marketing for small business? Read on!
4 Options for Social Media Management
How to Use Fan Content in Social Media Marketing
Instagram for Business: Why Your Company Needs It
Facebook for Business: Why Your Company Needs It
Pin