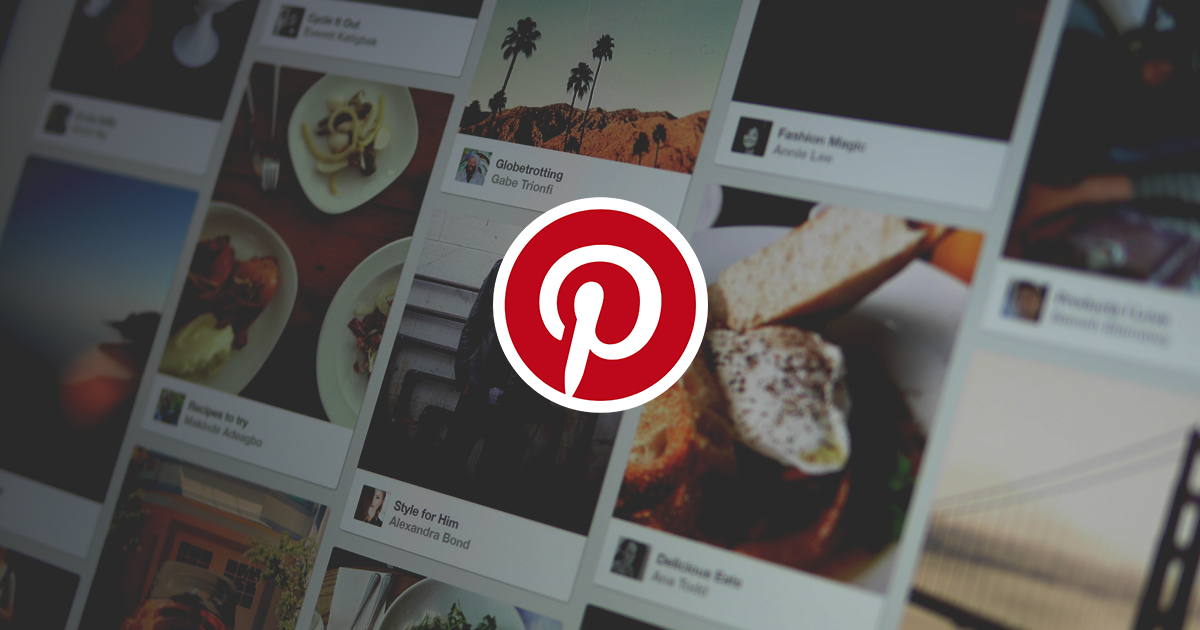 Since it's not as widely used as Facebook, Twitter, or Instagram, some businesses leave Pinterest off their social media marketing plan.
Pinterest also uses a different format than traditional social media sites with a whole new vocabulary of boards, pins, saves, and feeds. Some companies avoid the site altogether, saying they don't have time to learn yet another social media platform.
This couldn't be further from the truth. The truth is, Pinterest's differences could be one of its best selling points. While Facebook, Twitter, and Instagram algorithms are based mostly on how recent a post was made, Pinterest functions like a visual search engine. People use Twitter, Instagram, and Facebook to share information. They use Pinterest to save and search for information, ideas, and products.
A 2018 study showed that 29% of all U.S. adults use Pinterest, making it the fourth most popular platform behind Facebook, YouTube, and Instagram. Pinterest is a social media platform that, when utilized correctly, can increase a company's online presence.
And we've seen this effect on our own website! After creating our Pinterest account in October 2017, it makes up almost a 25% of all our social media referrals – with less than 30 minutes a week of maintenance.
Contents
How Does Pinterest Work?
Pinterest allows users to organize a collection of posts into different categories. When something is posted, it's referred to as a "pin." These pins can then be saved by a follower to one of their "boards." A board is like a digital ideas board or bulletin board. It is a collection of similar pins on a user's page. You can name your board and save content related to it that you find on Pinterest.
Let's say you find some AWESOME material about web services. You could save it to one of your boards by clicking "save." It is then pinned to the specific board that you chose. Your followers then see what is pinned within each of your boards.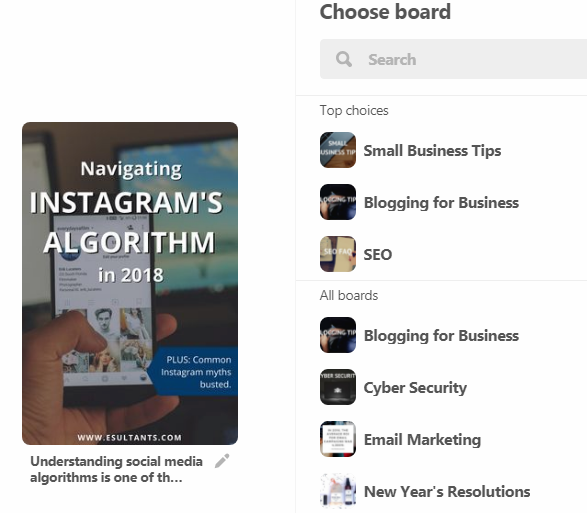 Pinterest Vocabulary
Pin: An image linked to a website page, often a blog or ecommerce product.
Board: A collection of related pins, similar to a file folder or digital bulletin board.
Save: When a user saves a pin in their feed and adds it to one of their boards.
Feed: A collection of pins from people you follow as well as suggestions from Pinterest based on your interests.
Perks of Pinterest
Pinterest is a social media platform that is continuously growing. In the United States, Pinterest has 175 million monthly users. Not only is it growing, but its audience is becoming more diverse. The number of men on Pinterest is on the rise, and 40% of all new signups are men.
The beauty with Pinterest is that you don't need to have a large following to have a lasting reach.
A large amount of the content on Pinterest is "saved." People who follow your board are there for your relevant content and are more likely to save your pins to their own boards, where their followers will see it. The saved post can then go on to be saved again and again, all leading back to your original pin linked to your website.
The best news? This process of saving and sharing can continue for, days, months—even years—after your initial pin, especially if people are searching for that information.
Is Pinterest a Good Fit for Your Business?
Pinterest is interest-based and 100% visual.
Some interests fare better than others. If your business offers
products for the home (e.g. furniture, organic cleaners, kitchen gadgets)
art or DIY art (e.g. stained glass, garden sculptures, quilting kits)
home improvement services (e.g. landscaping, interior design, granite installation)
personal or professional services (e.g. accounting, consulting, fitness coaching)
"how to" instructions or "hacks"—either as a YouTube video or blog post
…then consider a Pinterest business account.
However, interest is just part of the puzzle. For the best chance at success on Pinterest, your pins need to look attractive. We recommend getting on an OMM plan to outsource your pins to a professional you know and trust. If you prefer to DIY and have the time to create your own, use a template from Canva specifically made for Pinterest. Use one magazine-quality image and include an audience-optimized headline that is easy to read and relevant to your audience.
Need help finding the right social media platform for your business? Download our free flowchart! Download Flowchart
Getting Started with Pinterest for Business
When you create your Pinterest account, you will want to make sure that it's set up as a business account.
Sign Up for a Pinterest Business Account
Navigate to the Pinterest home page. In the "Welcome to Pinterest" box, click Continue as a business at the very bottom.

Enter your login and account information, including an accurate business category.

Choose your language and country, and then enter your website URL.

Select a few categories relevant to your company's target audience so Pinterest can begin suggesting pins in your feed.

Click your profile icon, and then select Settings to edit your profile.

Add a high-definition, square-shaped version of your logo as a profile picture.
Include a description of your business.

Create boards based on your interests or product categories.
NOTE: Current clients can contact Esultants for board recommendations and help creating stylized board covers.

Make it official by claiming your website in Settings. Contact your website specialist to help you add the HTML tag to your code.

Claiming your website tells Pinterest you really are an official business, but it also allows for other perks such as:
Access to Pinterest analytics
Promoted pins (paid ads)
These three perks can help a company become successful on Pinterest.
Pinterest Analytics
The Pinterest analytics tool allows you to see how your pins are performing. You will be able to see how often your images are saved, the number of unique visitors who have interacted with your pins, how often your pins appear in search results, and much more. This information assures that you are using Pinterest in the most effective way possible.
Rich Pins
Rich Pins have more information attached directly to the pin. They may provide a link to an article, detailed product information, recipe details, or an option to download an app. Rich pins can help drive traffic back to a company's website.
Promoted Pins
Promoted pins are pins that a company pays to show to user groups who may not follow them. They help to increase reach and increase followers.
Pinterest Best Practices
Just like other social media sites, Pinterest has its own code to follow to get the most out your posts.
Set Up Boards
As we talked about earlier, boards will categorize and organize your Pinterest page. A well-organized Pinterest page will look more professional and will help your followers navigate through your page.
You can even add sections within boards to further categorize your content.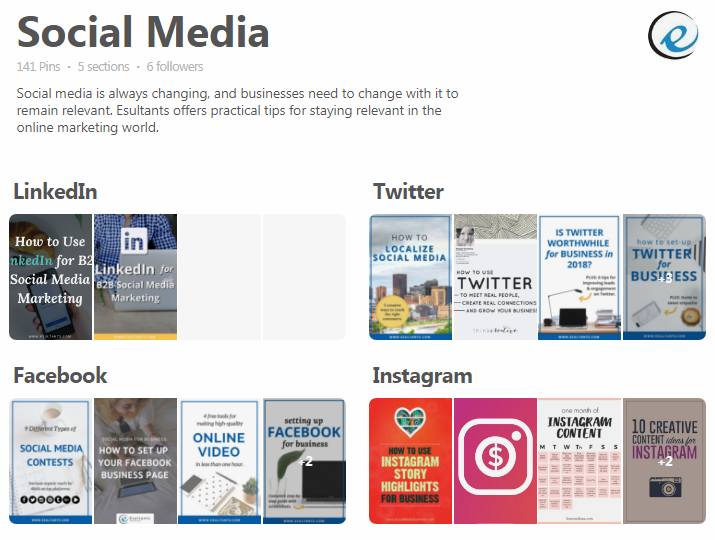 Our Social Media board is divided into sections platform-specific pins. Follow just Pinterest-specific pins here.
Choosing between a Board and a Section for Pin Categories
NOTE: It's easier to start with an organization in place than try to sort or rearrange pins later.
Specific boards are better than vague or general ones. Instead of a "Home and Garden" board with sections for "home" and "garden," create two separate boards. Then you can create sections to further subdivide those boards into categories relevant to your audience. If a potential customer only wants ideas for edging in a garden, they won't scroll through indoor furniture pictures to get there. They might not even have the patience to sift through pins of Perennials. But if you have a "Garden" board and an "edging" section, you can send customers there with a link. If edging is all you do, make it its own board.
Stuck? Create an outline to help you plan out your structure. Need help? Contact a Social Media Specialist at Esultants.
Be Visual
Pinterest relies on visual posts. Photos, infographics, and diagrams will be the most effective posts to increase engagement with your users. Try to use mostly vertical images that are easy to read in mobile.
Pin Often
While Pinterest pins are more evergreen than posts on other platforms, the Pinterest algorithm still values fresh content, which means you need to be pinning at least once a day to improve your reach. Studies show that a minimum of five pins a day is the magic number to increase engagement.
Write Keyword-Rich Descriptions
Pinterest acts more like a search engine than a traditional social media platform. Often, users come to Pinterest looking for specific content, and they use the search function to find exactly what they need. Writing your pin description like a page description will help you get found. Or entrust your description writing to a social media specialist trained in SEO.
Spread the Word!
If you don't let people know you're on Pinterest, nobody will know you are on Pinterest! Put a "Find us on Pinterest" link on your website, post about it on other social media sites, or promote pins.
Conclusion
Pinterest is a social media tool that is gathering steam in the social media realm. It can be another way to reach your audience, and a way to increase the size of your audience. If you are curious if Pinterest may be helpful for your company, or you want help increasing your presence on Pinterest, contact our social media experts at Esultants today.
Sign up to receive our free monthly guide on what online marketing practices work for your specific business type and how to use them to increase your reach, customer engagement, and potential profit.
Want to know more about social media marketing for small business? Read on!
Pin