LinkedIn isn't anyone's favorite social media platform. It's not where you'll post your baby pictures or share political opinions. You wouldn't log in to find funny videos or kill time at the grocery store.
Because of LinkedIn's all-business approach, it's lost some ground in popular opinion. Still, if you need business advice, information on industry trends, or a recommendation for business partners, LinkedIn is the best place to go.
The format and mindset of LinkedIn make it the ideal social media platform for B2B marketing.
Table of Contents
Who should use LinkedIn for business?
Advertisements are everywhere in our daily lives, but some placements work better than others. We compartmentalize our lives, and we don't like when advertisers invade our private space.
For example, a call to your office phone from your web services provider asking if you need anything at 11:00 am during the week is welcome customer service. But if you got the same call at 7:00 pm on a Friday, to your cell phone, it would be rude and annoying.
When people log in to LinkedIn, they want to see content and offers related to their business. If you're a B2B business, your audience will be more receptive on LinkedIn than other social media platforms — 50% of B2B buyers use LinkedIn when making purchasing decisions.
Need help finding the right social media platform for your business? Download our free flowchart! Download Flowchart
Tips for Using LinkedIn Effectively
Start a personal LinkedIn profile
Just like Facebook, your profile is about you personally as a professional, and your page is about your business or organization.
Make sure you have the following elements in your personal profile:
Profile picture. This should be a current and professional headshot.


Headline. You can use your job title and company or provide a brief description of the work you do.


Summary. This is your elevator pitch. Introduce yourself and tell people how you (or your business) can help them.


Experience. Keeping your experience current will make you look professional and credible. Try to describe your work in bullet points, rather than just having the job title and location.


Education. You can include where you went to college and your area of study to connect with other alumni.


Website URL. If you are the president or owner of your company, you may want to link to the business website on your profile.


Connections: You're ready to build your network! This is the bread and butter of LinkedIn. You'll want to add co-workers, former classmates, and business connections.



INVITE TIPS: When you ask to connect with someone, LinkedIn will offer a generic message: "I'd like to connect with you on LinkedIn." If you're personal friends with the person, this is probably enough. However, if you are trying to grow your network, it is best to send a message that tells them when and where you met ("We met last night at the University of Minnesota networking dinner."), what you talked about ("I enjoyed discussing the Facebook algorithm changes with you."), and why you would like to connect ("I would love to get connected to stay up to date with your work in nonprofit social media.").
Optimize your LinkedIn company page
Add a profile and cover image. Use your logo as the profile picture to present a strong brand identity. Companies with logo images get 6x more traffic than those without.
Write a keyword-friendly "About Us" section. Google will show the first 156 characters of your page text as the meta description of your page in search results. Describing your business accurately could lead more visitors to your page, so be sure to mention expertise and industry focus.


Add the LinkedIn icon to your website. Make it easy for your website visitors to connect with you further on social media.

Is your site missing links to your social media platforms? Contact the Esultants Support Team to update your social links.


Encourage employees to connect with your company page. On average, employees have 10x more 1st-degree connections on LinkedIn than a company has followers.
Post regularly on your business page
Pin It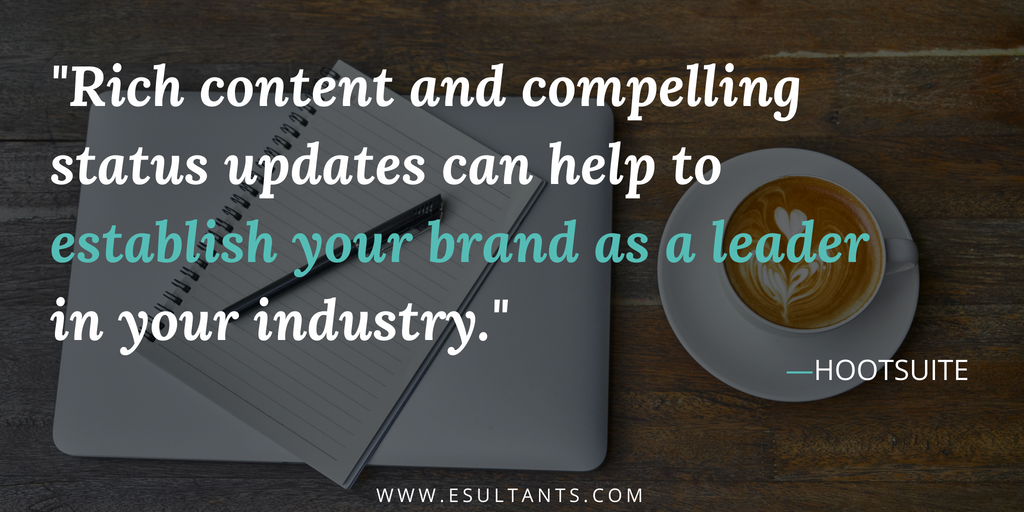 LinkedIn recommends posting once per weekday, but your focus should always be on quality over quantity.
News, expert advice, peer insights, and recommendations. If you spend all day installing carpet tile, you probably know a thing or two about how to find the best brands. On LinkedIn, you can share tips and research about your industry that will build your credibility and help your target audience. If you provide value to your buyer, they are far more likely to purchase from you in the future.


Links to your website. If you write a new blog post or create a page to advertise your latest product, share it on LinkedIn! Just be sure to follow the 80/20 rule: posting four non-promotional updates that benefit your audience for every self-promotional post.
Job openings. The internet is the main way people search for jobs today, and LinkedIn is a big part of this with over 75% of people using LinkedIn to inform their career decision. Posting your job on LinkedIn is an easy way to find and keep track of job candidates, with the peripheral benefit of promoting your brand name among up-and-coming professionals in your industry.
A note on the LinkedIn algorithm
Ahh, the algorithm — the gatekeeper of social media marketing.
Like all social media platforms, LinkedIn has an algorithm to keep each user's feed fresh and relevant. The simplest way to work with the algorithm to increase your reach is to post high-quality content for your target audience. This should be your goal every time you post online.
Still, there are a few things to note specific for LinkedIn's algorithm. LinkedIn will keep your content in the newsfeed if it receives positive engagement right away and keeps that momentum.
Posting Tips
Add a visual
Images get 98% higher comment rates, and videos get a 75% higher share rate.
Use inverted pyramid style
Start with a snappy headline or intriguing question to hook the reader before the "read more" link.
Include a clear call to action
Every post should have a follow-up; it could be leaving a comment, clicking a link, calling your store, or claiming an offer, but it should always bring your reader another step further on the buyer journey.
Connect to emotion
Karen Walker, Cisco's SVP of Marketing, attributes her B2B company's social media success to content built on personal connection. She encourages businesses to consider four key areas:
Professional benefits
Social benefits
Emotional benefits
Self-image benefits
If you spend time scrolling LinkedIn and looking at the content that goes viral on the platform, you can easily categorize which of these benefits the writer is targeting. To recreate this in your own content, use words like "you" instead of "professionals" or "business owners," and post four customer-centric posts for every self-promotional post.
What's next?
Now you know how useful LinkedIn can be for B2B marketing, but what are your next steps?
Start a personal LinkedIn profile.
Set up a LinkedIn page for your business, or contact Esultants to set up the page à la carte.
Start posting weekly, or get on a monthly Online Marketing and Maintenance program to have Esultants take care of posting on your behalf.
If you're still wary of online marketing in general, sign up for our monthly No-Panic Guide to Online Marketing to learn more about which tactics work for you.
Keep Reading
How do I reach local customers on social media?
Is Twitter still relevant in 2018?
Who will manage my social media accounts?
Should my business be on Facebook?
Pin it