I bet you already know someone who has a blog—maybe that someone is you!
In 2018, anyone with an internet connection can share their opinions, knowledge, and food pictures online.
But blogs aren't just public journals for the ambitious solopreneur.
Businesses of all sizes are using blogging as a way to promote their products or services.
Over the past few years, Esultants has encouraged many of our clients to start a blog, and we've prioritized content as part of our own marketing strategy.
In this post we'll cover:
Why is blogging good for business?
Most businesses have the same two goals:
Gain more customers
Retain existing customers
Blogging can help you with both.
First, refreshing your site content will help your search engine ranking.
Search engines prioritize sites that are regularly updated and contributing new ideas and information.
Create a blogging calendar to help you remember when to update your site. Remember, failing to plan is planning to fail, so plan on updating your site once a month if possible. Refreshing your content once a week or even once every couple of months can help let search engines know your website is kept current.
Second, regular blogging serves your loyal customers.
Everything you do in your business, even your marketing tactics, should serve your customers. Blogging allows you to build up a substantial resource library over time.
At Esultants, our goal is to provide individualized service to each of our clients. But we also get asked many of the same questions, so we create blog posts with our researched answers.
Our goal is to save ourselves and our clients' valuable time, not to compromise service. We'll point a customer to a blog post as a resource, but we're still sure to provide tips that relate only to them.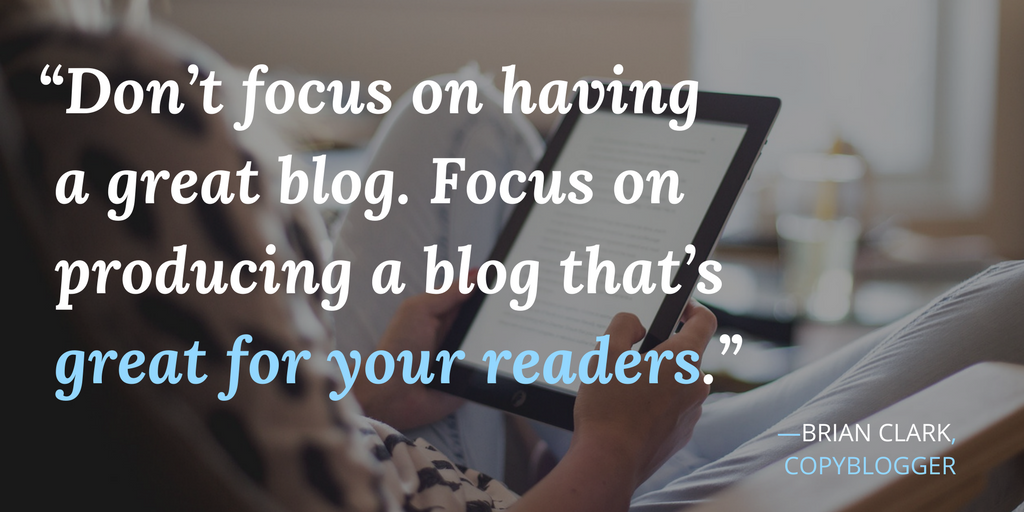 Once you have a few excellent posts in the archives, they can have a snowball effect and drive visitors to your site for years to come. The best way to show this is with actual numbers from a real client:
Blogging Case Study
All our online marketing packages include blogging or social media support, and each client customizes how to use their monthly hours on either tactic.
One agritourism client ordered 11 blog posts in 2016 and 1 blog post in 2017. In 2016 we definitely focused more on blogging, and we ramped up social media in 2017.
However, since we had those blog posts in the bank, we were able to share those on Facebook and increase blog views by 330%.

Ideally, we would have the budget to write routine blog posts both years—then we would probably see these numbers even higher. Still, this shows how valuable shareable, relevant core content can be.
How to start a business blog:
The best place to start with any new online marketing tactic is to decide who is going to be in charge. Your initial instinct may be to write the blog yourself. After all, no one knows your business as you do! However, you might already have a long to-do list and a limited amount of time, and the tasks involved in managing a blog add up fast.
Let's take a look at each step in the blog writing process and how you can tackle or delegate each:
4 Steps in the Blog Writing Process
1. Finding Ideas for Blog Posts
The hardest part about starting a blog is coming up with the ideas time after time.
Your blog can cover a variety of topics, but every blog post you write should solve a problem or answer a question for your customer. You should also keep topics related to your business or industry.
If you run a Christmas tree farm, it probably isn't relevant to write about how to grocery shop on a budget. Unless it's how to shop for Christmas decorations on a budget—then you have a tie-in to your product.
Tackle
People come up with blog topic ideas in a hundred different ways. You'll want to test out a few different strategies and find out which ones work best for you and give your audience the content they want to read.
Here are a few practical tips to get you started:
Keep a list of topic ideas. It's inevitable that your best ideas will come to you when you cannot act on them. Create a list in your computer, phone, or notebook to capture these ideas. This way when you do have time to write, you have a whole list to start from! Using an app like Evernote will allow you to access notes from anywhere and keep them safe in the cloud.
Repurpose content or information. Did you speak at a conference? Have you sent hundreds of emails on the same topic? You probably have a whole collection of research, examples, and tips that simply need to be formatted into a blog post. Drop all of your notes into a blog draft, and schedule a time to come back it later. Remember, don't post the draft until it's ready to go live! Save the draft instead.
Use customer FAQ. Gather the form submissions from your site and see if any questions show up again and again. A whole blog post with the answer will help any future website visitors with the same questions. Bonus: you can re-share the blog post on your social media accounts periodically.
Follow industry trends or news. If something exciting is happening in your industry, use your expertise to comment on what it means for your customers.
Explain new products or services. If you choose this method, be sure to include a call to action to make it easy for readers to buy immediately or contact you.
Delegate
Our team of content writers can use online tools and analytics to find out what your audience is searching and reading online. If you're a current OMM client, ask us about generating a list of ideas for your specific business.
2. Writing Blog Posts
Once you know your topic, it's time to pour a fresh cup of coffee and get typing!
Tackle
Blogging for business is different from the writing you learned in high school. Search engines and users have made specific rules for writing great online content.
With so many blogs and websites crowding the online space, you need to optimize your blog posts for what readers want. As with any business tactic, you will be more efficient if you focus on quality over quantity.
Use images. Research shows that articles with more than one image receive better results. You can create images of quotes or stats using tools like Canva and share these on social media to advertise your blog posts.
Write more. Your blog posts should be at least 300 words, and longer blog posts (over 1000 words) do even better. From a search engine's perspective, the longer the post, the more likely it is to solve a user's problem. But remember: You should write for the user first. If it takes you 300 words to answer the question, end your post there. Adding fluff to your content to reach a word count won't help you or your reader.
Pin it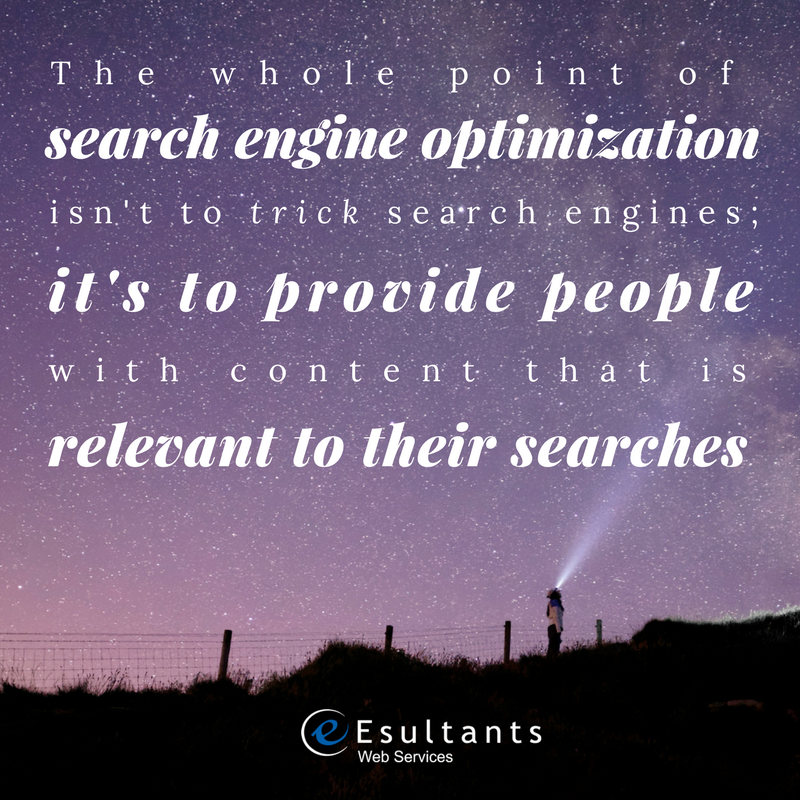 Make it readable. People scan articles online more than they actually read them. Short paragraphs, subheadings, and bulleted lists will all help your reader track what you're saying and pick out what is important to them.
Share your content on social media. You just created an awesome blog post. It would be a shame if no one saw it! Share your blog posts on your social media platforms periodically to make sure your fans see what you're making for them.
Delegate
Your business shouldn't feel like an annoying school assignment. Esultants has writers on staff who have years of experience creating content for a variety of businesses. Also, when we do your writing, you always get final approval before it goes live.
3. Editing and Optimizing Blog Content
With so many blogs and websites crowding the online space, you need to optimize your blog posts for what readers want. You will be more efficient if you focus on quality over quantity.
Tackle
Many writing professionals recommend writing a post, and then letting it sit a day or two before editing it with a fresh perspective. You can also try reading your post out loud to make sure it flows properly and the tone is conversational. Use spell check or install Grammarly on your browser to make sure your post is error-free, but know that spell checkers still only work 80-90% of the time.
Delegate
Even if you spend hours poring over every sentence in your blog post for mistakes, if you don't know what you're looking for or how to fix common errors, you won't improve your work. Consider using your Online Marketing and Maintenance hours to have trained eyes take a look at your work and polish it for publishing.
4. Promoting Blog Posts
Once your post is complete, the next step is making sure people find it.
Tackle
To start, we recommend promoting your latest blog posts on your website and social media platforms. Check out our blog post for tips and examples for marketing your blog.
Delegate
At Esultants, we spend several hours after the blog post is complete creating social media posts and website links to promote our new content.
We know the checklist for promoting a blog can get long, and we don't want to use all your online marketing hours creating campaigns and social media posts which don't work. Instead, we talk with you to decide where and how you want to promote new blog content, paying extra attention to the social media sites where you are already successful.
Know Your Needs for Each Step
If you think any part of the writing process isn't for you, but you still want to have a blog for your company, let us know. We offer ongoing content writing programs or à la carte services to help you with any blogging needs you may have.
This blog post contains an excerpt from the Understanding Blogging for Business newsletter in our No-Panic Guide to Online Marketing series. To learn more about which businesses need blogging and why blogging is important, read the full newsletter!

You can also sign up to gain immediate access to all past No-Panic Guide lessons and to receive future newsletters.
Get Access Today!
What now?
Sticking to a blogging schedule isn't always easy.
At Esultants, we've understood the value of content marketing for years, but that was just the first step. Between 2016 and 2017 we hired two professional writers to devote time to blogging for ourselves and our clients.
If you want to blog more, but there just isn't time in the day, you can utilize our à la carte blog writing services to supplement what your team can create each year. Contact our content marketing team if you want to learn more about this process.
Or leave us a comment below, and we'll answer any specific blog questions you may have.
Let's get writing.
Pin it