Twitter has had a mixed success since they launched in 2006. It grew fast in the beginning, as a way for users to share 140-character tidbits about their life. In recent years, however, the Twitter platform has been under fire for bot accounts tweeting spam.
You may wonder if it is worth it to start a Twitter account for your small business. Wouldn't you be better off with a social media platform that is maintaining steady growth?
While Twitter isn't be growing as quickly as other social media platforms, don't count it out yet.
Twitter still maintains 319 million monthly users, and more than 500 million tweets are shared each day. The platform has also made changes to remove fake accounts and reward users who post useful, interesting content.
In this post, we'll discuss the following Twitter topics:
Is Twitter Right for Your business?
Knowing the demographics of your target audience can give you a head start on finding the right social media platform. Each demographic group uses social media differently, so you need to know where your audience already is and go to them.
But demographics are only part of the equation; you also need to account for your customers' interests.
People use Twitter for two main reasons: Entertainment and Information.
Entertainment
Short tweets of humor, words of wisdom, or helpful insights tend to perform well on Twitter. If you can delight your followers in 280 or fewer well-picked characters, you will be rewarded with retweets, quotes, and replies—all of which help to build your following and give your account credibility.
Information
Many people also use Twitter as their source for news. If sharing and commenting on current events and informational articles makes sense for your customers, Twitter is the perfect place for you. Checking in on trending hashtags can help you find topics that others are interested in. Just make sure you stick to noncontroversial topics that relate to your business or customers.
Knowing your target market's demographics and interests is helpful for determining if you should use Twitter, but the only way to know for sure is to try it out and see how people respond.
Need help setting up a Twitter business account? Use our step-by-step guide for creating a Twitter.
3 Benefits of Twitter for Business
1. Networking
Twitter channels opportunities for personal and professional networking. You can connect with more people from more places on Twitter than through any in-person networking event. The information, expertise, and advice shared among these connections will benefit your company's growth.
You will learn through the influencers you follow, but Twitter also allows you to reach your followers with relevant content. An important feature of Twitter is the ability to interact and converse with these followers through retweets, replies, and direct messaging.
2. Marketing
With every user who follows you, you are building an audience for your brand. Each tweet increases brand awareness and draws people in to learn more about your business and what you do.
You can also use Twitter to drive traffic to strategic content. Once you have a steady following, you can create a buzz for product promotions, blog posts, and other business focused content. Posting relevant articles that lead followers back to your business with follow-up questions may also help your marketing efforts.
3. Customer Relations
One of the most prevalent benefits of Twitter is access to customer feedback. Twitter provides a way for you to provide customer service that is personal, responsive, and accessible.
Your business can key in on what people are saying about your brand, your competitors, and problems that relate to your business. Tracking these tweets lets you learn about issues in your own business and industry and improve your business accordingly. Once you know the issues facing your customers, you can start conversations and begin to solve problems.
Ideas for Tweets
What you post will depend mostly on what your business is about. You want everything you write to be relevant to your industry and interesting to your followers. However, you have several types of posts to choose from to reach these goals.
1. Quotes
Quotes are an easy way to share inspirational or informative information that your followers may benefit from. It also shows that you appreciate the contributions of others.
Adding a well-designed image of the quote will grab the attention of your followers and lead to more retweets.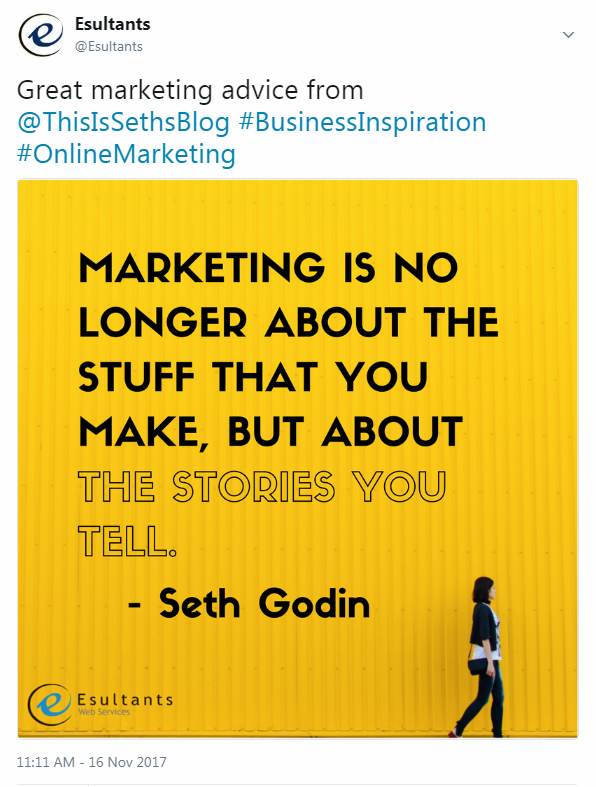 2. Statistics
Give your followers concrete information about your industry. This also shows that you have done your research and are knowledgeable about your topic.
Be sure to include the source of the statistic.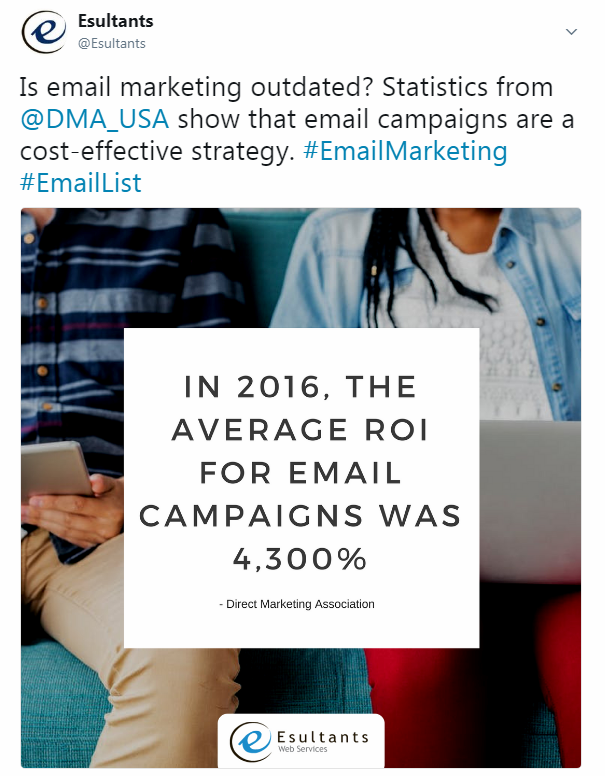 3. Funny statements or images
Entertaining your followers is a perfect way to build a loyal base. People are also more likely to interact with content that makes them laugh.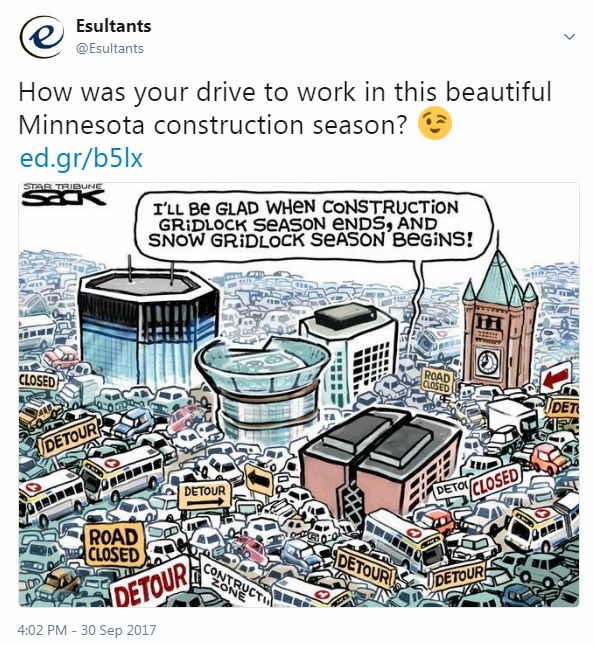 4. Links to blog posts
Did you read or write an article recently that would help you customers? You can use your Twitter to curate interesting content for your followers.
When you start out on Twitter, post on a variety of topics and test different formats to see what works. After several months, you can book a social media audit to discover what works for your followers.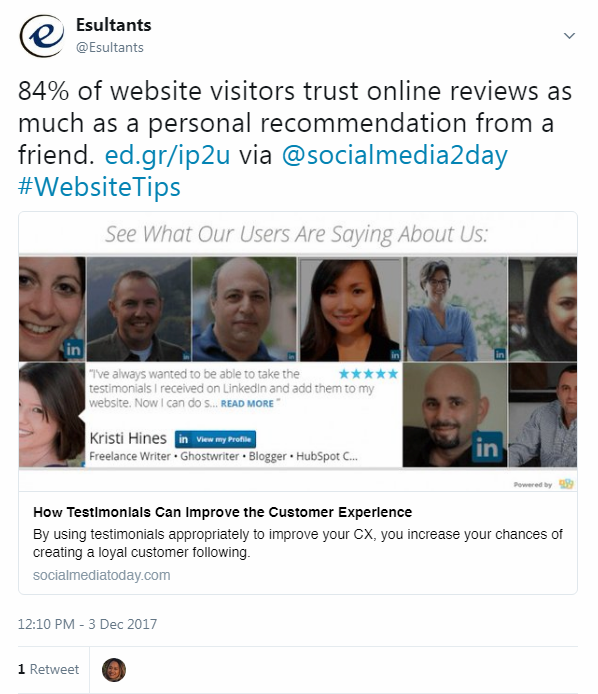 Twitter Tips & Tricks
Use hashtags. Hashtags can be very beneficial on Twitter, if they are used in moderation. Stick to 1-3 hashtags per post, making sure that each hashtag is relevant to your content.


Post images. An image is an easy way to make sure your post sticks out among the masses. Moreover, tweets with a visual element get more clicks and favorites and 150% more retweets.

Plan and schedule content ahead of time. Posting great content each day can be a lot of work, but you can reduce this effort by writing several posts at once and scheduling them throughout the week.


Retweet, reply, and mention. Target loyal customers or industry influencers directly through retweeting, replying to their posts, or mentioning them in your content.

Tweet often. With over 500 million tweets each day, your chances of getting in front of your customer's eyes at any given moment are small. Post at least once a day and at most four times a day to make sure people see what you have to say. Vary what you post and when to avoid being penalized by Twitter for duplicate content.


Optimize posts for Twitter. Each social platform has a different recipe for the perfect post. This means sharing a Facebook or Instagram post on Twitter can cause more harm than good. If your post is longer than 280 characters, Twitter will truncate it for you, forcing the user to click through to the original post to complete the thought. Also, if you share an Instagram image to Twitter, it will appear as a link rather than the image itself. Both of these kinds of tweets lead to your Twitter looking less authentic.
Conclusion
Twitter allows businesses to engage with more customers, influencers, leaders, competitors, and mentors than ever before.
If you need help determining if Twitter may be right for you or help establishing a strong social media presence, contact the social media experts at Esultants today.
Tell us what you think:
Are you using Twitter for your small business? What do you think is the platform's biggest benefit?
Want to know more about social media marketing for small businesses? Read on!
You can also follow Esultants on Twitter for daily social media and website tips.