Many social media algorithms are prioritizing video over other types of content. The Watch tab on Facebook and the success of Instagram Stories are just two examples of how social media and its users are changing to prefer video over text or images.

As a small business, you may feel left behind in this ever-changing online world. Just as you were getting the hang of posting regularly on social media, the internet changes the rules again, and you're left in the dust by big brands with big budgets.

Don't worry. We keep track of the trends for you and are constantly developing new strategies for your local business to stand out in the crowd.

You don't need an expensive camera or a professional videographer to produce videos. We found four free, easy-to-use tools for creating videos in less than an hour. Click to Tweet.

1. Image Slideshows
The key to great social media management on a budget is recycling your great content into different mediums. Adding images to a video slideshow helps you reach new audiences and increase engagement on content.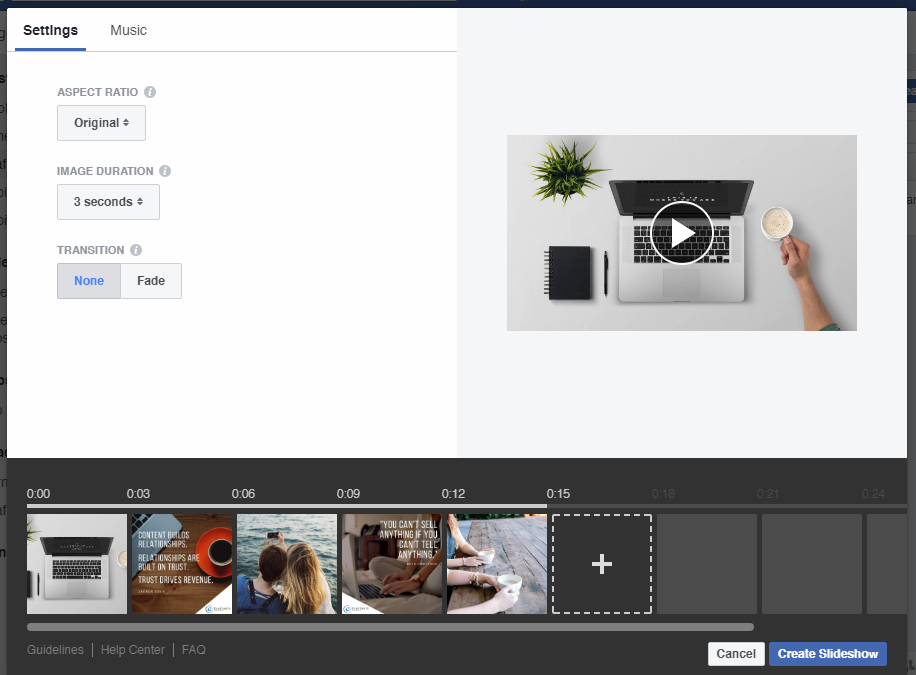 All you need to do is upload 3-7 images to Facebook, choose a duration for each photo, and pick a song to play in the background. You have the option to save the video as a draft, publish immediately, or schedule for a later date.

Keep in mind that users play most videos on social media on mute, so your images and caption should be understandable by themselves.
2. Boomerang
A Boomerang takes a short video, plays it forward, then backwards, then loops that recording. You can make these in the Boomerang app, then download them to your phone and upload to Facebook, Instagram, or Twitter.

Get ideas for great Boomerangs at their Instagram account.
3. Videos from Blog posts
With Lumen5, you can transform any blog post into an informative video. All you need to do is copy and paste the URL of your blog post, and Lumen5 will use AI to create a video for you.

This tool works perfectly for people viewing your video in mute, because the most important information is in the captions.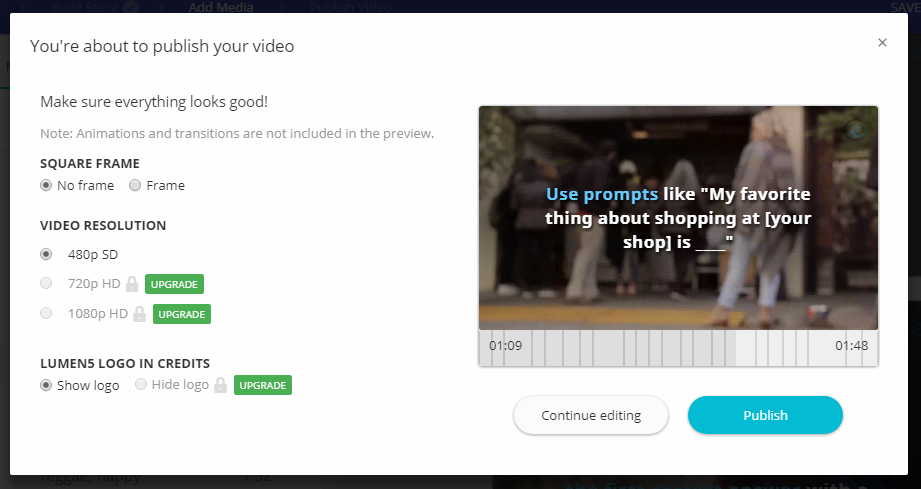 Lumen5 gathers all the text from your blog post, which you can manually arrange on a video story board. Try to limit the text in your blog post to 250 words to keep videos short. The most-viewed videos on social media are under two minutes.

When you are happy with the text for your video, click Continue to begin adding visuals. If you have images larger than 500 x 500 pixels, Lumen5 will automatically add these to the background of your slides. But don't worry if you are missing quality images of your own. Lumen5 has a library of free stock images, videos, and illustrations for you to choose from.

You also have the option to customize the text format and highlight important words and phrases on each slide.

Finally, choose a song to play with the video and customize the branding with your logo and watermark.

For detailed instructions and screenshots of Lumen5, visit the Lumen5 website.
4. Live Video
Live video on social media can be intimidating. How you look, what you say, and any technical difficulties are online, unedited for all to see.

Still, everything that scares you about live video is what makes Instagram and Facebook live perfect for promoting brand authenticity. People want to see the real people behind a brand, and live video is the perfect opportunity to show them who you are.
The Lakes Area Web Services Facebook Live at the What a Hoot Quilting grand opening was the most popular post of that month by 218%!

Use live video to take your followers behind the scenes of developing your new project or give them a tour of your location. Film in a creative way that gets your message across visually if your audience is watching without sound.

Prepare for your Live session and plan what you want to say, but when it is time to hit record, take a deep breath and just have fun with it. Remember, people are more likely to watch short videos through to the end, so 2-3 minutes is plenty of time for a high-quality live video.
Conclusion
Video on social media doesn't have to be complicated. With the right tools and a few minutes, you can create high-quality videos that will reach new audiences with engaging visual content.

If you want to learn more about how to post content that converts on social media, call our experts at Esultants. You can also sign up for our free monthly No-Panic Guide to Online Marketing sent directly to your inbox.
Tell us what you think!
What keeps you from creating videos on social media? Will you use any of these tools? Comment below ⬇
Want to know more about social media marketing for small business?
Instagram for Small Business
Facebook for Small Business
Twitter for Small Business
What is a Social Media Audit?