Why You Should Care about SEO
93% of online experiences begin with a search engine, according to the Search Engine Journal. The user types in a query, the search engine delivers relevant material, and the user typically does not look past the first page of results.

So what happens when you are not near the top of the results?

Without optimizing your website for search engines, people will not find your site from search engine queries, no matter how much work you put into your business.

Still, SEO (search engine optimization) is always changing. The best way to tell if you are making the most of your online marketing budget is an SEO audit. A detailed, personalized site audit will tell you exactly where YOUR company is selling itself short online.


What an Audit Measures
Errors, Warnings, and Notices
Is there anything preventing you from ranking well on search engines? Broken links, missing page titles, and duplicate content all can harm your search engine rankings.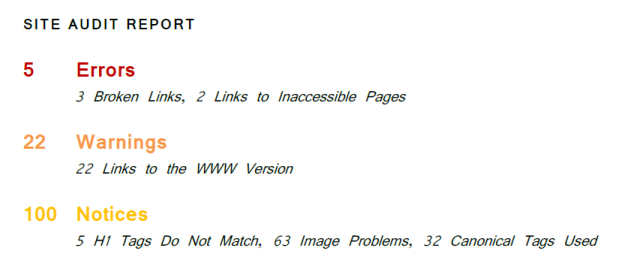 The Esultants audit tests for over 50 types of SEO issues and locates them on your site. As an added bonus, if you sign up for an annual Esultants SEO program, we will fix priority problems for you.


Google Analytics
Google Analytics tells you if the right people are finding your website and receiving relevant content on your pages.

Analytics tells you your number of visitors for any given time period, what pages they view, and how long they stay.

All these numbers and percentages are neat, but you may wonder how they will help with conversions and sales. Analytics alone are useless. But when you have an SEO specialist breaking down what they mean for your website and your business, they become invaluable.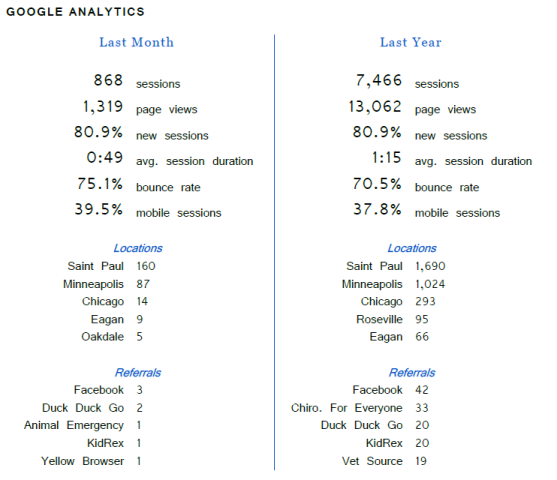 Take the example above: This website is getting a high percentage of new visitors. This is great! Unfortunately, they also have a high bounce rate (visitors who leave the site without navigating to other pages).

The website had a very informational, well-optimized page that brought in many new visitors, but only a few of these visitors moved deeper into the site.

The professional analysis from Esultants identified the specific problem and offered a solution to decrease the bounce rate. We work with our SEO clients to optimize their website and turn traffic into sales.


Website Grade
The Website Grade tells us how well your site is doing overall and helps you decide if your website strategy is working and where it could be improved. Although the overall grade may not give you specific action steps for SEO, it can help you determine long-term goals for your site.



The experts at Esultants look at these long-term goals for your website and break it all down into actionable steps. And if you enroll in an advanced SEO program, we will be with you every step of the way.

Website Age
The age of your website can be an important factor when measuring the effect of SEO. Search engines give prominence to websites that are regularly updated. The Esultants audit tells you the age of your web design and includes recommendations for refreshing content and design.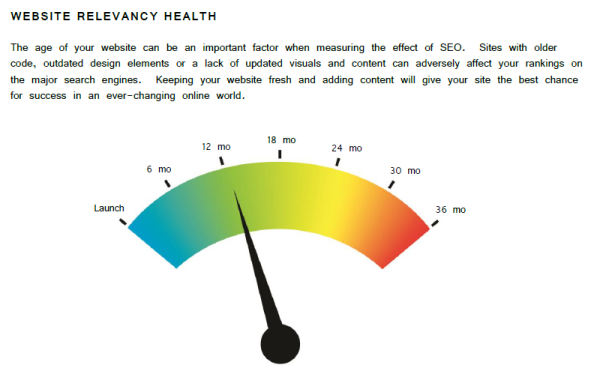 Beginning at launch, you should have a plan for revising your website with new visuals or content. For example, blogging even once every three months will keep your website from going stale.

Because design and code evolve rapidly along with advancements in technology, we recommend taking another look at your code and design at least every three years. We may recommend an update to the look and feel, or you may decide you'd be better off with a whole new website that reflects your current business identity or is compatible with new ways of accessing the internet.

Esultants Web Services experts spend time analyzing and researching new advances to keep our clients from falling behind. When website searches became more popular on mobile devices, we reached out to our clients to help them get up to speed.

Keeping your website fresh and adding content will give your site the best chance for success in an ever-changing online world.

How Esultants Can Help
Esultants doesn't just give you a list of errors and leave you to interpret it all on your own. The most valuable section of our SEO audit reports is the What's Next and Recommendations section. We can't even show you a sample here because they are so tailored to individual sites.

These sections are where we provide those actionable steps for improving your SEO and website.

Only we don't just provide the action items—if you decide to purchase an SEO program, we will actually make these changes for you. Each recommendation has a designated lead, a priority designation, and a follow-up step so you can easily budget your remaining program hours and put us to work making the site the best it can be within your budget.

What are you waiting for? Contact Esultants today to learn how we can work with you to optimize your site for users and search engines alike.


Full SEO Report and Site Audit

This detailed report comes with recommendations for optimizing your website, including copy improvements.

Schedule Your Report

Ongoing SEO Consulting & Support

Learn more about what SEO program fits your plan for growing your online presence and search engine rankings.
Programs