Why Instagram Works for Business
Many companies are beginning to see the importance of social media in today's online marketing world. However, social media is always changing as platforms change their offerings and become more popular among users.

Instagram has become the fastest growing social media platform over the past few years (TechCrunch). Instagram has 500 million daily users, and 80% of these users follow a business (Instagram Internal Data).

Businesses have a large, open audience on Instagram, and the platform has lent itself to making these companies successful.

62% of millennials say that if a brand engages with them on social networks, they are more likely to become a customer (Forbes).

Images allow you to connect with customers on a more personal level through photos and videos. Instead of just reading about your business on Twitter or Facebook, customers get to see what your company is really all about. Furthermore, Instagram borrows from other popular social networks with its creative use of video and story features. This flexibility for posting allows you to customize an Instagram marketing strategy that works for you and your customers.

With increasing popularity, effective marketing techniques, and flexible post creation and engagement options, Instagram is becoming a vital piece of the online marketing strategy for many small businesses.

"Instagram is the perfect place for small businesses to promote their brand, engage with customers, & produce ROI." Click to Tweet

How to Set up an Instagram Business Account
Instagram recently launched Instagram Business accounts to allow large and small brands to be more strategic about Instagram marketing. Although this feature is still in its infancy, it already offers many benefits:
Contact buttons on your profile. You can now enter your phone number, email address, and physical address into Instagram to help followers find you more easily.



Boosting posts. Similar to Facebook, you can now boost posts on Instagram to target a specific audience with a predetermined budget.


Demographics of your followers. Instagram will give you basic information about your followers including when they are online and how many times they click through to your website.


Post popularity. Instagram shows you which posts have the highest impressions and engagement, helping you decide which types of posts to invest in.


Switching to an Instagram Business account is as simple as linking your Instagram to your Facebook business page, and Instagram provides straightforward instructions.


Ready to start marketing on Instagram? Statistics show that people who write down their goals are 80% more likely to fulfill those goals. Download our FREE goal planner and take your first step toward a successful Instagram account.
Instagram Tips & Tricks
1. Engage with other users and followers. Humble and Whole suggests spending 20-30 minutes a day looking at the posts of people you follow and searching the hashtags you use regularly. Like or comment on your followers' pictures to engage with on a deeper level.

Minnesota Hashtags to Watch: #OnlyInMN #CaptureMN #CaptureStPaul #MySaintPaul #Minnesota #MinnesotaLife #MNLife #Minnstagramers #Landof1000Lakes #ExploreMN #MNProud #ThisIsMyMN #InstaMinnesota


2. Use hashtags. Create a list of hashtags using the hashtag funnel (Preview App) and use 10-30 relevant hashtags per post to expand your reach. You may even create a specific hashtag for your business so employees and customers can tag you in their posts.


3. Write engaging captions. Your caption should add value to the image. Experiment with long and short captions, but always put the most important content or call to action at the beginning. Provide line breaks and move from most important to least important so readers can move into the details gradually.
4. Take great photos. The image itself is the core value of every Instagram post, so take a moment to choose a good setting, great lighting, and an interesting subject. You can also increase value with some minor changes in brightness, contrast, and saturation.
5. Add Linktree to your bio. Linktree allows for visitors of your page to have access to multiple links of your choosing, opposed to just one. With the use of multiple links, you can promote various blogs or newsletters.

What to post
Have we convinced you yet? The hardest part of getting started with Instagram is coming up with ideas for posts. Include variety in your Instagram feed with different types of posts:
· Your team. People like to see the human behind the work, and Instagram is the perfect place to show this.
· Your work space. Give your followers a peak behind the scenes into your daily life to connect your clients to your process.

· Products. If you provide a consumer product, Instagram is the perfect platform to showcase your work. Take pictures of your new products arranged on a blank background or at use in someone's daily life.

· Quotes. If you don't have physical products, but you do consider yourself an expert in an industry, consider posting quotes or inspirational phrases. This sets you apart as an expert, provides information to followers, and creates variety in your images.

Most importantly, post a variety of images and content, test what works well, and stay true to your brand.
Need help finding the right social media platform for your business? Download our free flowchart! Download Flowchart
Conclusion
Instagram will perform great for you IF that is where your target market hangs out and interacts. Before starting any social media strategy, discover if your tactic will work for your specific company. If you need help determining if Instagram may be right for you or help establishing a strong Instagram presence, contact the social media experts at Esultants today.


Tell us what you think!
Are you using Instagram for your small business? What do you think is the platform's biggest benefit?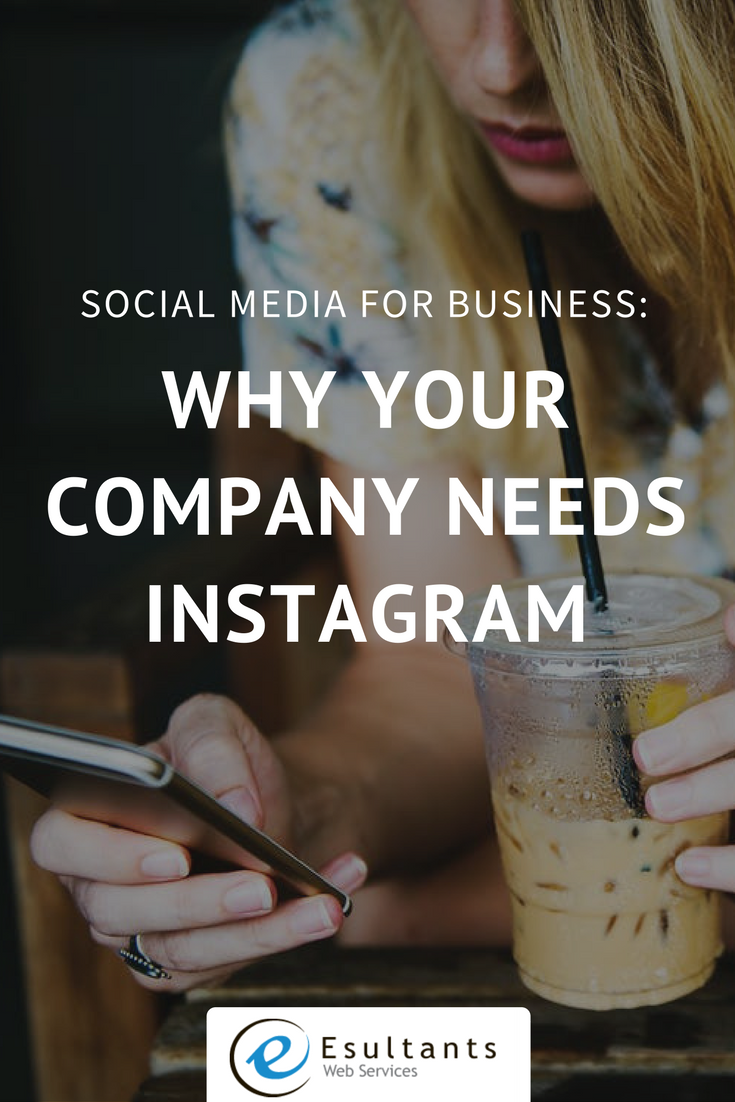 Want to know more about social media marketing for small businesses? Read on!
Sign up to receive our free monthly guide on what online marketing practices work for your specific business type and how to use them to increase your reach, customer engagement, and potential profit.