Starting July 13, 2017, you will no longer be able to modify how Facebook previews the links you share on Facebook.

Here's what you need to know.


Why is Facebook making this change?
Some users were abusing the ability to modify links so they could spread spam and fake news.

Facebook created Open Graph to help websites and Facebook communicate with each other. They want websites to speak their language. Until they come up with a better way to filter out junk, implementing Open Graph is the way to go.


As a courtesy to our customers, we will update the appearance of your home page on Facebook.
Fill out this form to get started.


What Facebook will show
To preview how Facebook will display your website on its users' timelines, enter the URL of any page in the Facebook Sharing Debugger.

Scroll down, and you can see the Link Preview.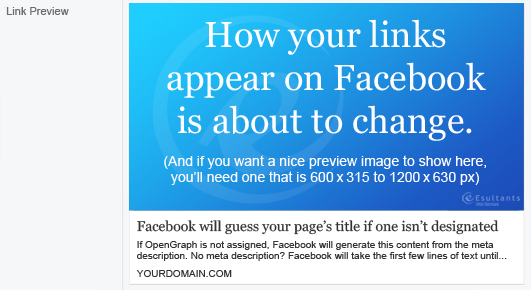 If you would like to change the image, title, description, or URL, we will have to generate new Open Graph tags for your page.

First, let us know what you'd like to be different by submitting an Open Graph Support Ticket.


We will generate OG tags for one page per Esultants customer as a courtesy.

For additional OG support—if you would like the preview edited for specific pages or blog posts, for example—we will have to deduct time according to your SEO or maintenance program.

To choose which page you would like us to update, submit an Open Graph Support Ticket.

For sites that have yet to launch as of July 13, 2017, we will include Open Graph tags on the home page for all clients who purchased a standard or advanced SEO plan.

Want to know more about what is new in online marketing? Sign up to receive our monthly guide on website and social media success.