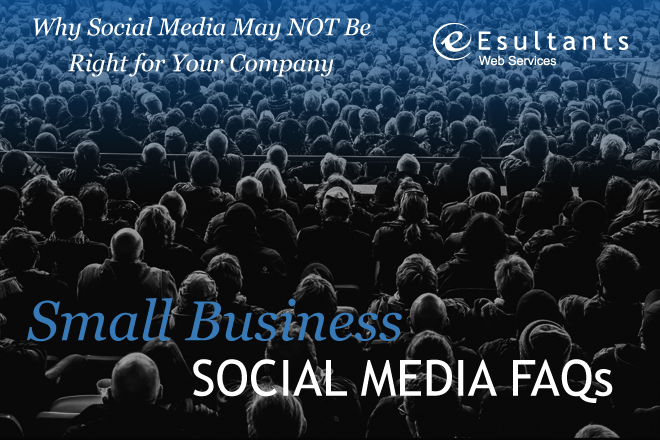 As a business owner or manager, you cannot escape the constant drumming about social media and how important it is to your company in today's technology-driven society, especially in this economy. But is social media really a channel your specific business needs?

The truth is . . . it may be or it may not be.

If you've been wondering if maintaining a Facebook page or making videos for YouTube is a relevant investment for the success of your business, this answer might be refreshing.

First, you need to know that social media is NOT critical to every business! But that doesn't mean it's not critical for yours.

Next, social media IS a critical element for business marketing today—but that does not mean it's critical for yours.

To really answer whether your company should invest in social media, we need to address the three basic categories of business.


Category One: Direct to Consumer Businesses
Category One companies either have products, services, solutions, budgets, or a customer base similar to their competitors'. If your business has high levels of competition, social media might be the only real opportunity to distinguish you from your competitors. Fast food restaurants, for example, have robust social media budgets. The Wendy's Twitter account especially has generated viral roasts of its competitors, growing its following to 1.51 million. Compare that to Burger King's 1.49 million and Arby's' ninety thousand followers.

Additionally, if your company sells products or services directly to consumers, you have no choice but to get on the social bandwagon and ride it hard.

Your company will also fall into this first category if you find value in Search Engine Optimization (SEO). If you are trying to get found online through search, you can't escape the power of social media to get and keep you there.

Finally, if your company wants to channel customer service support online, social media will be critical to keeping you in front of your customers and keeping them happy.


If you sell directly to consumers, get on the social bandwagon and ride it hard.

Even if you don't want to engage in social media, your customers will, and you need a way to witness and react to their comments, ratings and reviews about your company.


Category Two: Indirect to Consumer Businesses
Category Two companies, also known as business-to-business or "B2B" companies, sell products or services directly to other businesses who serve a consumer audience.

These companies are also likely to need SEO and online customer service.

One example of a Category Two business would be pharmaceutical companies, who market to consumers but cannot sell directly to consumers. Their advertisements urge consumers to ask their doctor about their drug.

If you have a need for marketing to consumers, whether you sell directly to them or not, you should devote a portion of your investment in social media marketing.


Category Three: Bidding Companies
The third category is the exception to the rule of social media necessity.

Category Three companies provide services directly other businesses or entities which do not generally get exposed to consumers. Instead, these are companies that sell services to government entities or companies which serve government entities. Newly generated business for these companies generally come through bids on large projects for manufacturing, construction or even IT.

Because Category Three companies respond to posted bidding opportunities, they tend to not interact directly with consumers or other businesses which serve consumers. They also have a lower level of competition in terms of the number of competitors involved. These companies do NOT need to spend money on social media marketing because they get their work according to their bids and proposals.


---

There You Have It!

Not all companies must be using social media to market their products and services. Take a few minutes to examine your company and decide where you fit within these categories. If you are consider yourself a Category One or Two or some kind of hybrid of the two, avoiding social media is a bad idea. If you consider yourself a Category Three, spend your money somewhere else.

Need help with your social media management? Contact our social media and SEO experts by calling Esultants today: 612-623-8054 (877-553-7858 toll free)