Social media activity and strategy is vital to tech and website companies. And marketing strategy or web strategy is developing into the norm for almost all businesses, large and small. But what's the point, if you never look back to see how you've grown? As a part of Esultants social media and particularly, our Twitter strategy, we wanted to review our tweets and see their results.

We compiled data from the first 6 weeks we started to grow our Twitter followers and a snapshot from the month of July 2013. The information we gathered included:
Tweets with Interactions – either retweet, mention, favorite, or clicks
Time of Day
Day of Week
Tweet Type – link, blog, quote, photo, local
Hashtags Used
Topics Tweeted About


Research:
First 6 Weeks (Starting Feb 2013)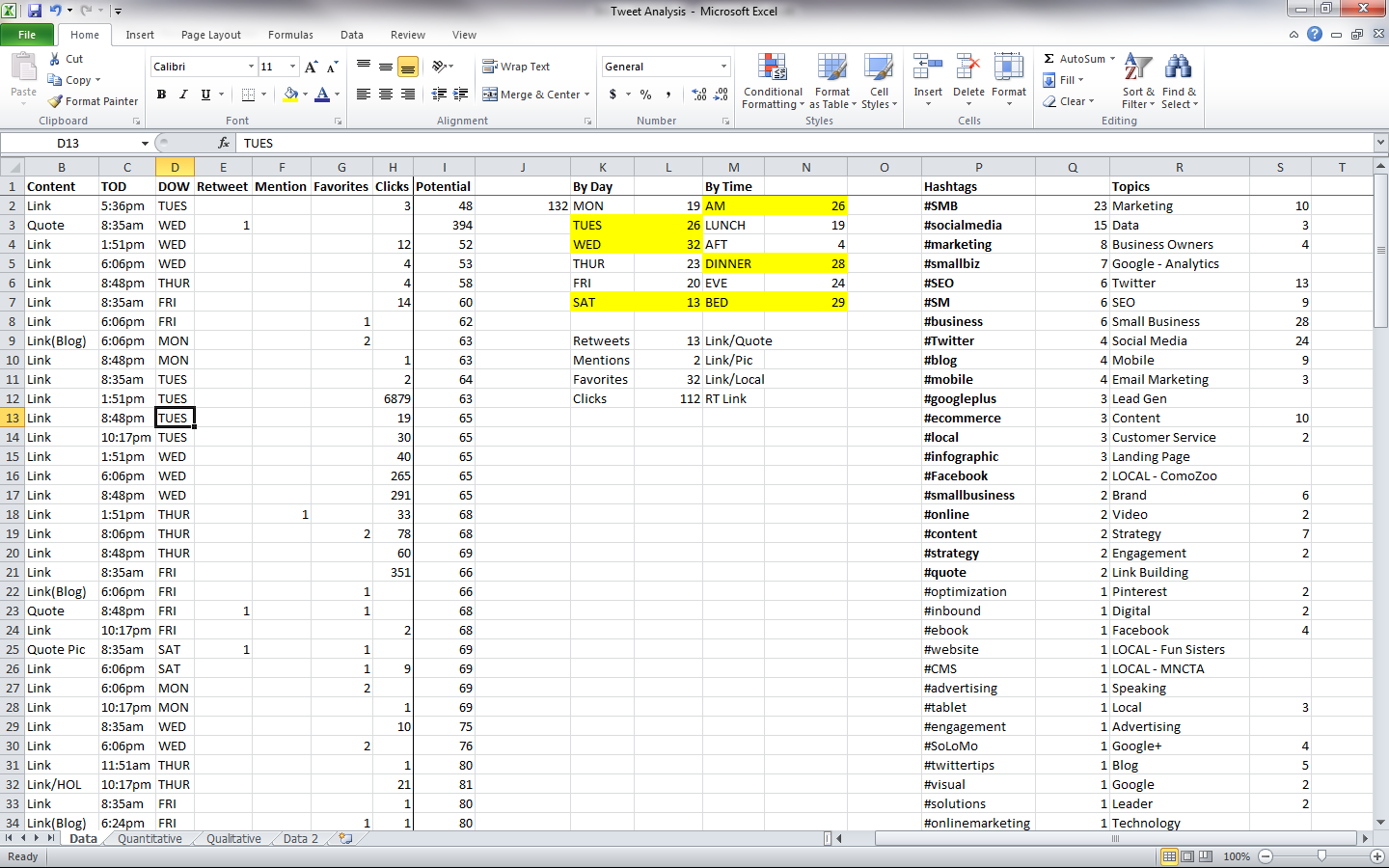 Average # of Tweets: 6 per day
Total # of Tweets with Interaction: 132 (62% of total posted tweets)
Total # of Followers: 250
Most Popular Day: Wednesday
Best Time: Bed Time (9 pm – 12 am)
Most Interacted with Tweet Type: Links
Most Interacted with Hashtags: #SMB, #socialmedia, #marketing
Most Interacted with Topics: Small Business & Social Media

July 2013
Average # of Tweets: 4 per day
Total # of Tweets with Interaction: 45 (52% of total posted tweets)
Total # of Followers: 492
Most Popular Day: Monday
Best Time: Lunch Time (10 am – 2 pm)
Most Interacted with Hashtags: #marketing, #content, #socialskim
Most Interacted with Topics: Marketing & Content
Observations
After compiling this data, we discovered a few important trends. These results are based on Esultants Web Services strategy and our targeted people which are marketers, website developers and small to medium-sized business owners.
More tweets per day increased likelihood of interaction (greater percentage of interaction over total tweets)

Don't need to use hashtags in each Tweet to receive interaction, only half of the interactions in first 6 weeks included hashtags
Almost half of all interacted with Tweets in July 2013 included a mention (someone else's Twitter name)
Earlier in the week (Monday – Wednesday) and Saturday had the most interaction
The content is what drives interaction, not necessarily the perfect posting time
Our posting topics fall under the categories of small business, marketing, social media, online and local
Next Steps
The data is by no means all-inclusive, and we compiled our data using Excel. The main point is we've analyzed and learned, and we have steps for moving forward. For Esultants, that means tweeting about more social media sites and more web development topics and tweeting about local businesses and events.

As general advice:
Test different posting times and days
Interact and mention more, there are real people behind those accounts
Determine who your audience is and tailor your tweets to them
Practice does not make perfect, but it does help
Data can definitely be intimidating and so can having a social media strategy. Moving one foot in front of the other and remembering to look over shoulder every once in a while will help your company move forward. We hope you have learned something about gathering and analyzing data and posting effectively on Twitter. Please share with us what has been effective with your Twitter strategy and what has worked for you.