The development team has had a fast start, already launching three new websites in the first 9 days of the month. All three projects were quite unique, although in all cases the main objective was the same - to create a more professional, modern and stylish design, and to give the website owner more control over the content presented on their site. Here is a brief rundown of the project specifics.


1. Metropolitan Learning Alliance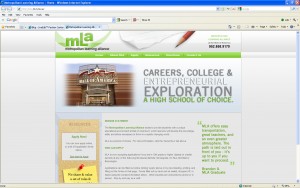 The Metropolitan Learning Alliance had an existing one-page website that provided minimal information and had links to a couple of PDF's for potential students to download and fill out to complete an application.Their revamped site features a new and more modern design, along with enhanced content and the ability to apply online. In addition, the staff at the MLA now has the control to be able to manage their site going forward, allowing them to add and edit content to create a more fulfilling online experience going forward. I might have even convinced them to go so far as to start a blog in the near future - maybe.


2. Minnesota Christmas Tree Association (http://www.mncta.com)
The MNCTA was looking to create a more visually appealing site, along with providing an administrative tool that would be more user- friendly for future administrators to manage. We provided them with a Content Management System tool, along with a re-designed layout that would accomplish both of those goals. With their new site up and running, they are now working dilligently to populate their site with as many resources and helpful tips as possible, in advance of their busy season. After all, in this day and age Christmas is always around the corner!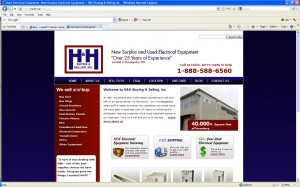 The existing website that H & H Buying and Selling had created was built and managed by one of the partners, using an outdated HTML software. Despite his best efforts, the client wanted a system that had more flexibility in adding/editing content, as well as a more distinguished and professional design, showing web visitors that they were one of the premier buyers and sellers of Circuit Breakers, Transformers (not the toys - trust me, I asked), VFD's and a variety of other equipment. By re-designing the website and integrating it into a Content Management System platform, we were able to give the client the ability to create a much more expansive website, detailing the numerous brands, and items that they provide. The goal is to grow the site slowly over time, to encompass most (if not all) of their massive inventory. And now with those tools, the client has already taken the first steps toward that goal!

As you can see, it has been a busy month so far - but my team and I are hoping that we are just warming up! And on that note, I need to head back to my cave to down some caffeine and get to work on my next project.