GooglePlus is growing and changing constantly. To learn more about the benefits of Google+ and what it can do for your company, read our previous blog entry
"Google+ For Business: Why Your Company Needs It"
. The next step is creating your business page then start building connections and sharing content.
Create Your Business Page
Google has put together some great resources to walk people through creating a business page. No need to reinvent the wheel when Google has provided a good starting point.
Follow the steps in this
Getting Started guide
and set up your business page.
You will need to create a personal Google+ profile before you can create a business page because your personal page will be the administrator for the new page
For additional assistance with your Google+ page creation, contact Esultants.
This image, from another GooglePlus guide, instructs new users of the whereabouts of the content that was added during the creation of the page. It also helps the user become more familiar with the layout of the business page and where to locate important things like photos and posts.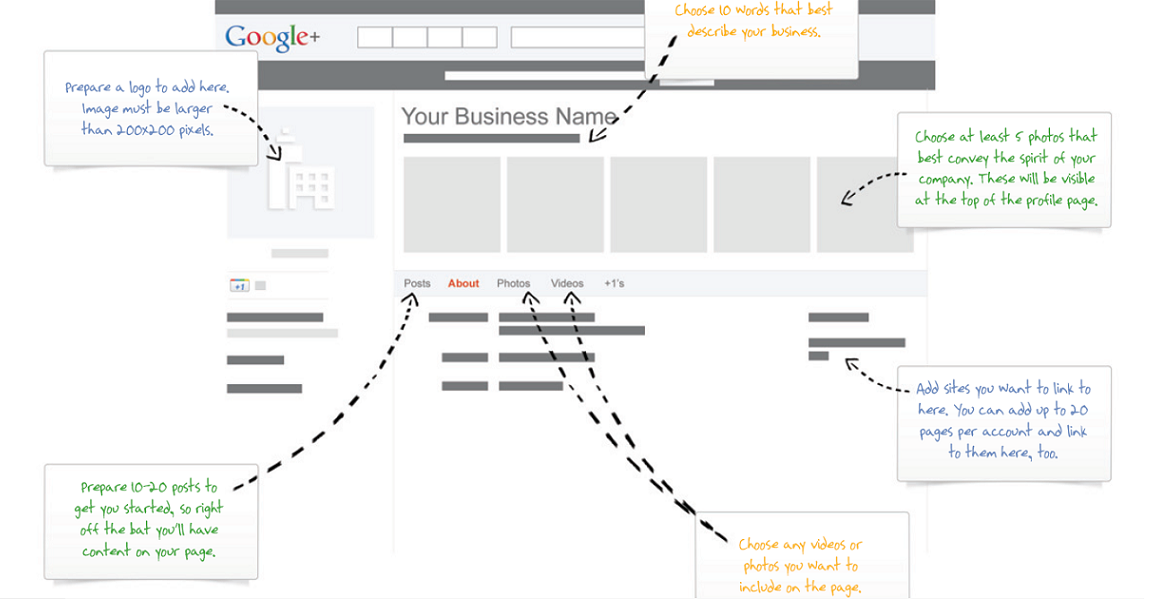 Once your page has been created, you are only just beginning. There is so much more to GooglePlus than just populating your page.
Build Connections
The fastest way to build connections is to follow other Google+ pages whether they are people or other businesses. It is recommended, as with Twitter
(How to Use Twitter for Business)
, to follow industry and thought leaders, competitors, and customers especially. Many of these pages you follow will follow you in return and will begin to build your connections. In order to gain connections more organically, post inviting visual content and insightful text on a consistent and regular basis and interested people will connect with you. The picture below displays how your company's page will display to other users.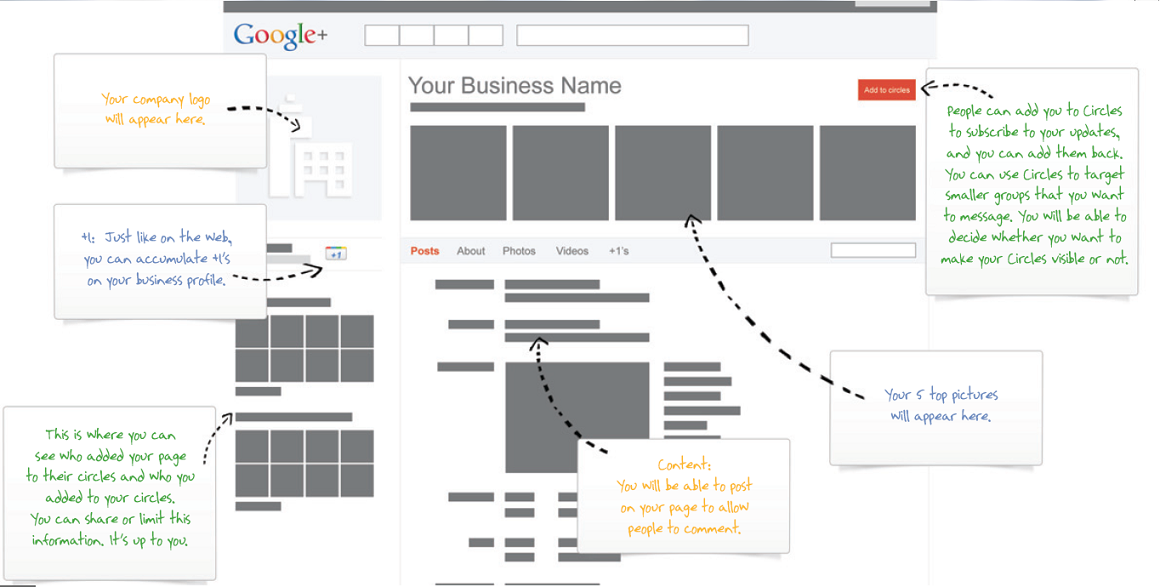 Beyond GooglePlus, you can build connections through the promotion of your Google+ Business page. This can be accomplished online by adding the Google+ icon to your website and sharing your page or the link to your page on other social media sites. You can also advertise offline by adding badges to print promotions and displays throughout your business.
Note:
The benefit of advertising your page to build connections through different mediums and both online and offline provide great brand promotion and consistency. It also promotes your location which is especially beneficial to local, brick and mortar businesses that are building their local presence on their Google+ page through local searches on mobile devices.

Share Content
Before you start sharing content through posts, there are a few things you should keep in mind. You should determine the purpose of this page and the goals you wish to achieve from it, from finding new customers to promoting events and special offers. It is also important to consider your brand and your customers so you don't stray from the core of who are and who you are serving. Also, schedule posts through the week to reach different segments of followers and provide consistency in your posts.
When you start sharing, keep in mind that Google+ is very visually focused so post a lot of photos and videos related to your business, your employees, and your industry. Be sure to utilize the Circles function. The Circles function allows you to categorize your followers into groups such as displayed in the photo. The benefit of Circles is to target specific Circles with the posts that are most relevant to them. This means that with each post you can select which Circles you would like to post it to or you can post it publicly too, which can help your business gain connections.

The final recommendations about your Google+ page are to encourage people to share your posts, enjoy building and maintaining connections, and track the metrics and analytics of your page to watch your interaction grow and change strategies to improve interactions when needed. Google has a lot to offer businesses with GooglePlus. Begin your Google+ journey today! As always, if you have questions or comments after reading this post, do not hesitate to
contact us
today.
Challenge:
Create your Google+ business page, find Esultants Web Services on Google+ and connect with us!

Getting Started on Google+ by Google http://www.google.com/+/business/get-started.html#feat-2Georgieva, Magdalena . How To Use Google+ for Business. Cambridge, MA: HubSpot, 2012. Print.Google Plus Your Business by Google http://static.googleusercontent.com/external_content/untrusted_dlcp/www.google.com/en/us/+/business/google-plus-your-business.pdf