So it looks like this Facebook thing is kind of a big deal. Hundreds of millions of people use it every day to interact with their friends, play silly games, post interesting (and uninteresting) life updates, and to hear from companies like yours.
If you have already set up a Facebook page for your business, your customers and others who are interested in you can choose to "Like" your page. This means that whenever you post something on your page, everyone who "Likes" your page will see it. This is a great way to stay in touch with your customer base.
So how can you get more people to "Like" your page? One easy way is to put a "Like Box" on your website. By adding a Facebook "Like Box" to your website, you make it easy for your website visitors to become fans of your Facebook page. With one click of the button on your site, they will start seeing all of the interesting things you post on your company's Facebook page.
This is what the "Like" box/button (or whatever you want to call it) looks like:
Adding a Facebook Like Button to Your Site:
Adding a Facebook Like Button to your site is a a great way to make it easy for visitors to either share your site with their friends or to follow your Facebook business orfan page. Watch "How'd They Do that?" to learn more.
https://youtu.be/_l3pUZ-4kDg?t=21
Or follow the steps below to get yours:
Step 1: Copy your Facebook page's URL
Go to your company's Facebook page and copy the URL that is displayed in the address bar.
Step 2: Go to the "Facebook Developers" site.
http://developers.facebook.com/docs/reference/plugins/like-box/
Step 3: Add your Facebook URL into the form.
Where it says "Facebook Page URL" replace "http://www.facebook.com/platform" with your Facebook URL, which you copied in Step 1.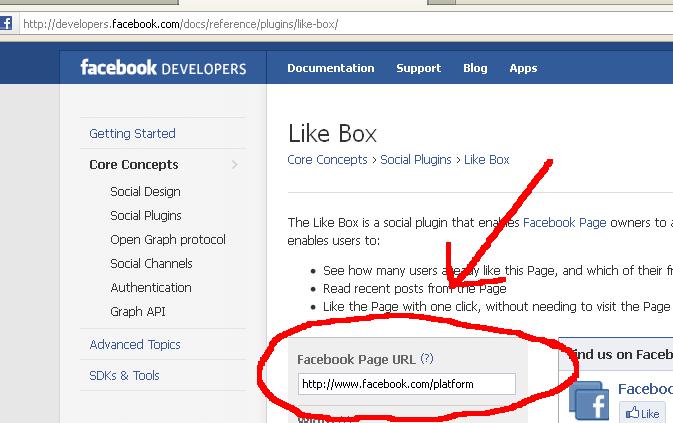 Step 4: Choose your options
If you'd like to change the width, you can modify the default number of 292 pixels to whatever you'd like it to be.
If you have a dark background on your website, you may want to change "light" to "dark" under the Color Scheme option.
You may not want to clutter up your website with a previews of posts from your facebook page and the faces of people who like your page. If so, just uncheck the "Show Faces" and "Show stream" check boxes. This will give you a nice, simple Like button for your site, just like the one pictured earlier in this blog post.
Step 5: Click the "Get Code" button


Step 6: Copy your Like Box plugin code.
A small window will pop up with the code for your Like button. Copy this code.

Step 7: Put the code on your site.
At this point you have some options.
A. If you have a web designer who makes changes to your website for you, send this code to your web designer and tell him or her where you would like it on your site.
B. If you know html and update your site on your own, paste this html code into the appropriate section of the code on your site.
C. If you're using one of our
content management systems
to update your site on your own, determine where you'd like to put the button, click on the "New in Area" button, then click the "HTML" button, paste the code you copied into the box, and then click "Save and Publish."
Congratulations! People who visit your website can now become your Facebook fan in one click.